How to Price Your Property Right?
Six Most Frequently Asked Questions (FAQs) Answered by a Licensed Real Estate Agency
As you read this article, you are probably considering or have already decided to sell your property on your own. Pricing your property right might be challenging, especially if you aren't dealing with this everyday like a licensed real estate agent. Of course, you do not want to lose out by pricing your property too low. On the other hand, you would also not want to set your asking price too high and risk your property being a sitting duck for months and indirectly helping your neighbours to sell. This article provides guidance on on how to price property accurately on your own.
It is obvious that you first need to know the most recently transacted prices of properties in your block and neighbourhood. Now the question you probably have in mind is how to gain access to that information, and what other considerations are there? For instance, what if your unit is nicely renovated or your property is one of those rare types and there are no comparable units or recently transacted units of a similar type. Some of you may be wondering whether it really is necessary to engage a licensed valuer for an official property valuation report.
We, at Pinnacle Estate Agency, are happy to share how you can accurately value and set the price on your property for sale in Singapore.
Question 1: How can I check the recently transacted property prices in my block and neighbourhood?
HDB Resale Flats
Fortunately, the Housing and Development Board (HDB) publishes the recently transacted flats to make it easy for flat sellers and buyers. You can either visit Resale Flat Prices or HDB Map Services. This way, you can look up the prices of recently transacted HDB flats in the vicinity.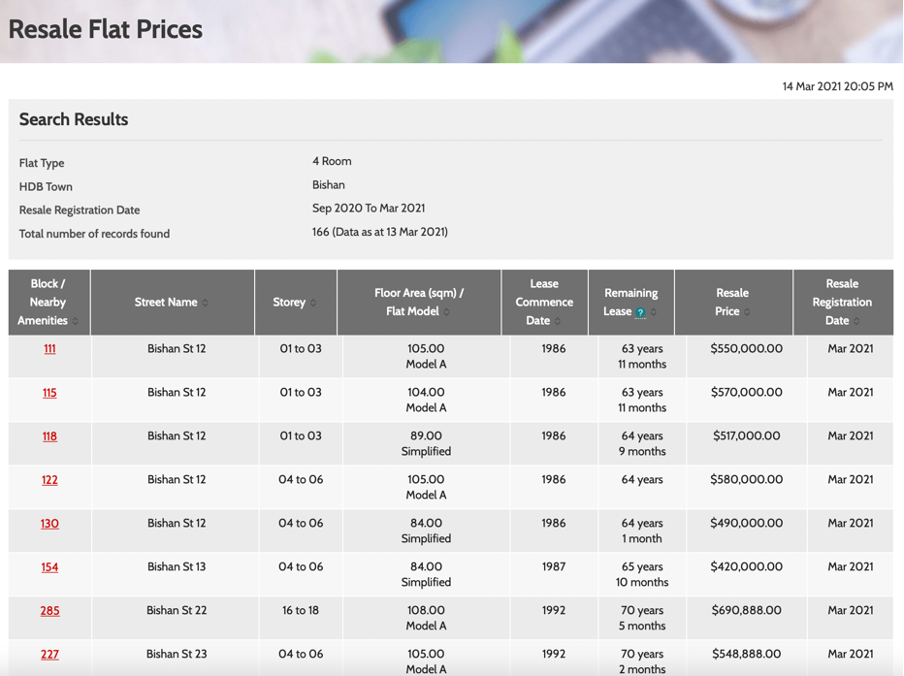 It will list the block number, street name, number of stories (range of 3), floor size, flat model, lease commencement year, remaining lease, resale price and resale registration date (register date of both sellers and buyers to HDB). Look for the characteristics that are most similar to your own flat. Do note that even neighbouring blocks could have been built in different years, thus have different remaining lease terms. Also, point blocks with 4 corner standalone flats on each floor usually command premium prices (between 5 - 10% higher), thus you need to identify those. If your flat has a substantially contrasting facing or view compared to other flats (e.g. flat facing unblocked Bishan-Ang Mo Kio Park in comparison to neighbouring flats facing opposite blocks or roads), you can make a good estimate by referring to flats transacted at a higher premium price, as those are likely to have that premium park view as well.
After you've obtained a price range for similar flats in your area, add or subtract $3,000 for every floor difference (a flat with more floors commands a higher price). If you have recently renovated your flat, you can add 75 – 90% (adjustable upon the market response) of the cost of your renovation onto the pricing. If it was done more than 5 years ago, you can add 50% of your renovation cost onto the pricing. Then, price your property at about 3% higher to allow room for negotiation.
Most real estate agents refer to this site as well, with extra real-time transactions that sometimes provides details of the unit number (including the valuation of that property) that is normally exclusively available to us as a result of data sharing for flats sold by real estate agents.
Private Property:
For Private Property, you can visit the Urban Redevelopment Authority's Private Residential Property Transactions. Look up the size and floor level that is most similar to your unit. This tool, which is available to the public, has limitations for privacy purposes, such as missing information on precise floor levels and unit numbers. URA provides another more detailed caveat data on their subscription-only Real Estate Information System (REALIS) at $1,800/year. Most real estate agencies and valuation firms subscribe to this, and thus have access to more detailed information such as floor levels, and unit numbers, which tells a more complete story such as whether it is a unit with a sea view or facing road-traffic noise.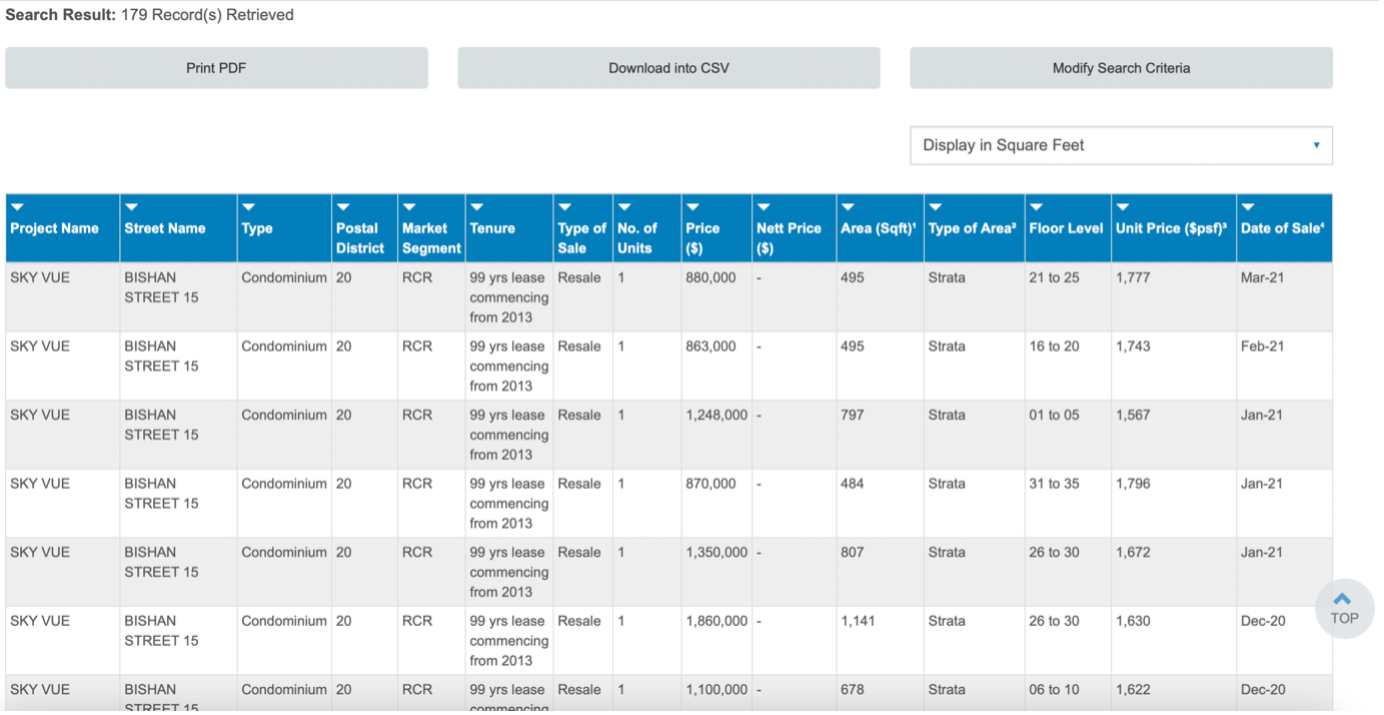 If your unit has a substantially contrasting facing or view compared to other units (e.g. The Sail at Marina Bay unit with Marina Bay view in comparison to the units facing office blocks), with a lack of information such as the unit number, you can make a good guess by referring to units transacted at a higher premium price, as those units are likely to have the premium Marina Bay view.
After you've obtained a price range for similar flats in your area, add or subtract about $5,000 for every floor difference. If you have recently renovated your unit, you can add between 75 – 90% (adjustable upon the market response) of your renovation cost onto the pricing. If it was done more than 5 years ago, you can add 50% of your renovation cost onto the pricing. Then price your property at about 3% higher to allow room for negotiation.
Question 2: What if there are no recently sold units in my block or street?
If there are no recent transactions in your exact block or street (for landed property), check nearby blocks or streets for units or houses of a similar land and built-up size, layout, and floor level (for apartment units).
However, if there aren't any similar properties being sold in your area, then things are slightly trickier. This is where a Comparative Market Analysis (CMA) comes into play. Essentially, you're looking at all the sales of comparable properties. These could be in the area or in a similar neighbourhood nearby.
You add or subtract value for whatever differences there may be – e.g. if your unit has a larger floor area or if it's a few years older. Note that you do need to know quite a bit about the neighbourhoods and properties to do the CMA well. Just skimming through the numbers without understanding the comparable properties can prove disastrous. Alternatively, you may seriously want to consider engaging a licensed valuer to give you the official valuation.
Question 3: Is it worth it to get a property valuation report?
If you have a housing loan from the bank, you can ask your banker to provide you with a desktop valuation of your property. They will then get their panel of valuers to provide an indicative value purely based on a direct comparison method using the most recent transacted units or houses nearby.
However, these desktop valuations do vary as valuation work is a combination of art and science and sometimes the process involves guesswork. Also, desktop valuations do not account for the unique features of each property. For example, an unblocked sea view, road traffic noise, and the renovation costs that you have spent your dollars on. In addition to that, banks usually give more conservative estimates, as they tend to price properties at what they can quickly sell them for in the event of foreclosure. Most banks also do not provide desktop valuations for HDB resale flats.
If you are still unsure of how to accurately value your property, you should consider engaging a licensed valuer to provide a more accurate valuation of your property. The valuation fee in Singapore is relatively affordable. It usually costs between $250 - $500 for HDB resale flats and strata titled private properties and between $600 – $1,000 for landed houses depending on land and built-up size. You can visit Singapore Institute of Surveyors and Valuers if you want to search for a licensed valuer to provide an official valuation for your property.
Alternatively, you can consult Pinnacle Estate Agency to help you accurately price your property at no cost to you. We will make a deep dive into the details of recently transacted prices, the latest competitor listings, pending sales, and withdrawn listings to give you an accurate indicative value of your property.
Question 4: What goes into a property valuation report?
Valuation reports include detailed information such as location, land zoning, floor area, age, tenure, renovation, and condition of property, as well as the prevailing market conditions.
Question 5: What can I do to increase the value of my property?
What most homeowners don't realize is that increasing their home value is easier than they think and often well worth the effort. The cost of upgrading the above usually dwarfs the return you can get. If you are selling your house, buyers are likely to pay more than your cost of upgrading, and your house is likely to be sold faster reducing the number of viewings required. You can read our well-written Five Tips to Increase the Value of Your Property.
Question 6: If I'm planning to sell my flat, could I get the property valuation report from HDB before setting the price?
HDB has ceased the process whereby the sellers could first obtain a valuation report of their flat from an HDB appointed valuation firm. Now, only buyers can request the valuation report solely for the purpose of a CPF fund withdrawal and/or to obtain an HDB / Bank loan for the purchase of the flat. And this request can only be done upon them receiving an Option to Purchase (OTP) from the seller, which means prices have been mutually agreed to by both parties. If buyers are not using any CPF funds or taking out a loan, they need not request a valuation. If you (as the seller) would like to get an accurate valuation of your property before setting your asking price, you'll have to engage a licensed valuer.
If your property has been on the market for many months, it would also be wise for you to either reduce your price or consider engaging the services of a professional real estate agent. Read our article on Selling Properties in Singapore: Should I DIY or Use Property Agent?
At Pinnacle Estate Agency, we strongly believe in sharing our real estate knowledge to the public.⁠ For more content like this article, check out our Singapore Property Guides.
Interested in getting an indicative valuation of your property by a licensed valuer?