Ultimate Guide for Renting Out Your Private Residential Property Without Using an Agent
6 Step-by-Step Guide from Rules and Regulation by URA, and Marketing Private Residential Property, to Getting Your Property Ready from Handover.
If you are interested in making money off your property, one way of doing this is to rent it out. Your options are to rent out a bedroom(s) or the entire flat.
However, before going down this road you need to understand that there are certain eligibility and legal requirements that must be adhered to. This guide will lay out the process you need to follow in order to rent your property out without using an agent:
1. Rules and Regulations by the Urban Redevelopment Authority (URA)
Residency Status: You can rent your property to Singapore Citizens, Singapore Permanent Residents and foreigners who legally reside and live in Singapore and hold any of these documents:

Dependant Pass
Employment Pass
Long-Term Social Visit Pass
S Pass
Student Pass
Work Permit
To determine whether your prospective tenant has valid documents, check online: S Pass or Employment Pass, Work permit, or NRIC, Student Pass or Long Term Social Visit Pass.
Duration of Tenancy: The regulation by the Urban Redevelopment Authority (URA) does not allow private residential property owners to rent out on a short-term basis, which would be anything less than three months. This applies whether you are renting your whole unit or just bedrooms. This means that you must verify that the passes held by your non-citizen applicants must be valid for at least three months from lease commencement date.
Because short-term rentals are illegal in Singapore you cannot list your property with Airbnb or similar tourist sites.
· Occupancy Cap on Private Residential Properties: Overcrowding is not allowed. So, if owners are renting out their private residential property to tenants who are unrelated, they need to make sure they don't exceed the occupancy cap of 6 people. Unrelated means anyone who is not related to the family unit, with domestic helper excepted. Example: A family of 6 (husband wife, and 4 children) with a domestic helper is allowed. Owners must comply with the occupancy cap if they want to avoid legal problems. These rules are designed to minimise disturbance complaints by neighbours due to overcrowding and to provide a pleasant living environment.
Registration of Tenants: Unlike renting of HDB flats, private property owners do not need to register the tenants with URA.
2. Determine Your Rental Price
You can find out what the rental prices of private residential property are in any private residential property in Singapore. Let's say that you have a 2 bedroom unit at Sky Vue in Bishan estate that you want to rent out. Select the project name Sky Vue, and Select Lease Commencement Date to as latest as possible usually 3 months.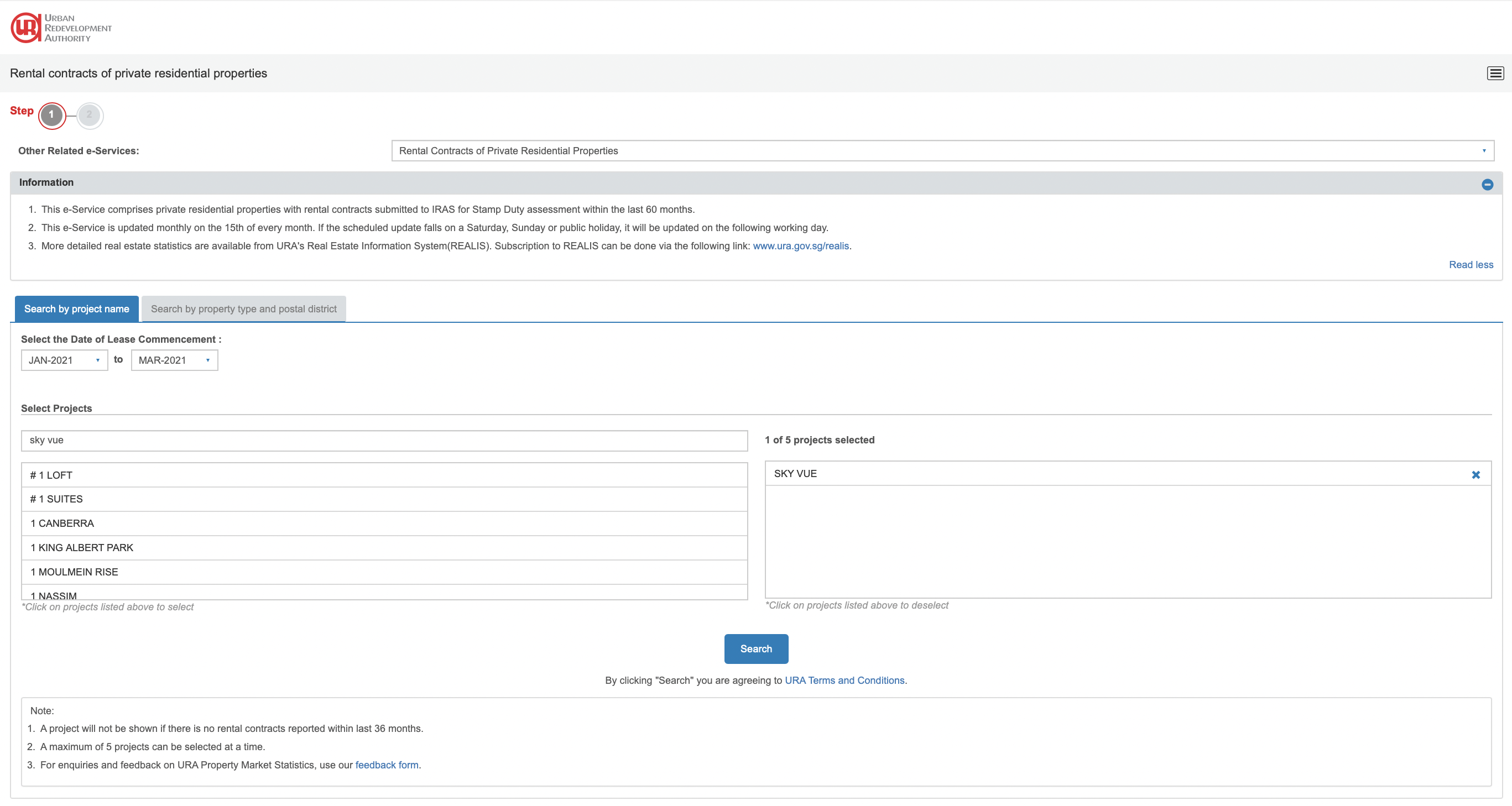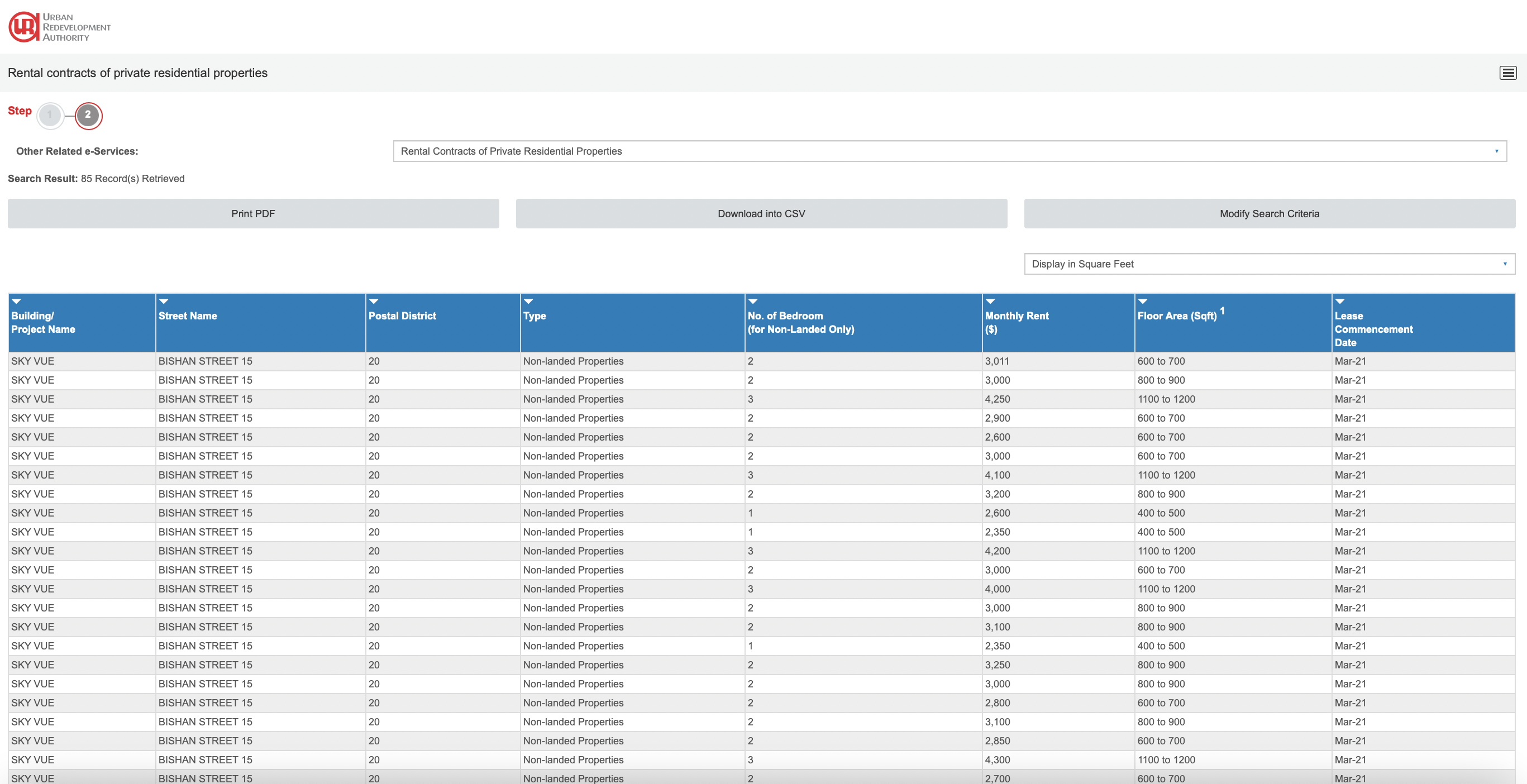 The search result displays the rented units with range of floor area, and the monthly rent. For privacy purpose, that's what the authority can show as publicly available information. You can use the it as a guideline before listing your property. If you need access to more detailed information such the floor and unit number or house number for landed property so you can price your asking rent more accurately, real estate agents from Pinnacle Estate Agency can assist you for no cost. This detailed information gives you an advantage because prospective tenants will likely also be looking into other rentals in your area. If you price your property too low, you may be leaving money on the table. If you price it too high, some prospects will not even enquire about it.
3. Marketing Your Property
Once you've determined your asking price, it's now time to start looking for a tenant and this involves marketing. You've got to figure out ways to do this without spending a fortune. You can place classified ads in the Straits Times, and/or list it online. If you place ads in the newspaper, you probably won't get much of a response because people these days rely on the internet for their news. But you will hear from a ton of real estate agents who would like you to list your flat with them. So, our recommendation would be to skip newspaper ads.
What we do recommend is that you list your property online with spectacular photos, a virtual tour and home tour of the interior. This should attract a lot of interested parties.
There is no doubt that online marketing has the best chance of success. So, now it's time to get rid of the clutter and do everything you can to make your property look its best before taking photos. Posting fabulous images is the key to attracting the most qualified tenants. Your property must make a great impression the moment they click on your listing. Studies show that 90% of information that goes to the brain is visual, so top-quality photos are essential.
The human brain can process visual images 60,000 faster than written content. People are far more likely to spend time on a listing with great photos, so if you have bad pictures or no pictures, your listing will be overlooked by many. A DSLR camera would be great if you have one, but if not, the latest smartphones have excellent cameras, so that should suffice. Use horizontal orientation, with as wide an angle as possible. The goal is to cover as much area as you can in each shot, so that viewers can get some perspective.
Your other option would be to hire an excellent real estate media company to shoot professional photos. A company like LandScan would not only shoot great photos they can also create a very compelling virtual tour of your property. You should seriously consider this option because their fees are very reasonable. The cost would depend on the size of your flat and which services you choose, somewhere between $280 and $600. Furthermore, they will create a webpage featuring your flat, which you can post online and send to friends and family.
If you decide to take your own photos, here are some tips:
Thoroughly clean your property and get rid of the clutter.
Take down personal photographs and any certificates with identifying information.
Only essential pieces of furniture should remain in each room.
The kitchen should be almost empty, except for something that adds a bit of colour.
Put toilet lids down in bathrooms and toiletries should be hidden.
Switch on all the interior lights.
Natural daylight works best with no sun shining directly towards your property.
If your property faces East, an afternoon shoot works best. If it faces West, a morning shoot works best. If it faces North or South, anytime of day works well in good weather before 5:00 p.m.
Use a horizontal orientation with wide angle settings on your camera or smartphone
Photos should be taken from the corners of each area, like the doorways of bedrooms.
Each room has a selling point, so feature that in your photo.
Kneel when photographing areas with low-lying furniture, like the living room and bathrooms.
Use free photo enhancement tools like beginner friendly Snapseed.
Crop your photos to eliminate distractions.
If you post a virtual tour of the interior of your property, prospective tenants will look at this when determining whether to schedule an in-person visit. This is why it's so important that you go the extra mile to ensure that your listing beautifully showcases your property and all its best features. This helps to qualify your prospects before you waste time showing your unit. People who are serious will call to make an appointment, which gives you an opportunity to screen them ahead of time.
If you want to fix up your property before listing it for rent, there is no need to spend a fortune on renovations. Before taking photos, why not add a fresh coat of paint? You'll be surprised by what a difference that can make! You may also want to read our article on Five Tips to Increase the Value of Your Property.
Since your listing is for rent directly by owner, you are left with fewer online options for posting it. For example, the most popular real estate websites like PropertyGuru.com.sg and SRX.com.sg only allow listings from CEA-registered property agents, so your listing cannot appear on those sites. Also, if you post your listing on 99.co you will get a lot of enquiries from real estate agents as the public at large doesn't have access to that site. However, your listing can be posted on platforms where there are no restrictions for property owners, like Carousel, Gumtree and of course Facebook Marketplace.
4. Prepare for Showings
Once people start calling in response to your online listing, many will want to set up an appointment to view your property. Before scheduling an appointment, you will want to ask them about the following as part of your screening process:
How would they describe themselves?
How many will be occupying the house?
Are they Singapore Citizens? If so, why are they renting? Is it to be near their job or children's schools?
Are they foreigners? If so, when did they arrive in Singapore? If they have been in Singapore for some time, why are they looking to move?
How much rent are they planning to pay?
How long do they plan on leasing the unit?
In showing your property, it's important that you comply with the most recent Covid-19 regulations by limiting the number of visitors you have per day to just eight. You can either hold a limited Open House or schedule your showings at different times and/or on different days. Don't forget to reconfirm the appointment the day before. This can easily be done with a brief text message like, "Hi, I just want to confirm our appointment at 11:00 a.m. tomorrow to show you my unit at 1 Bishan Street 15 #02-01, Sky Vue, Singapore 573910. Please text me back with your confirmation. Thanks."
To make a good impression, you might want to do a few things before holding an Open House or conducting any showings:
Give your property a thorough cleaning and remove the clutter.
On a hot day, you want it to be cool inside, so turn on the air conditioning or a fan. Otherwise, open the windows for good ventilation.
Open the curtains and blinds to bring in natural light.
Lock up all valuables, like your documents, wallet/purse, jewelry and mobile devices.
Do not be doing laundry or have it hanging up to dry.
Make sure you thank everyone for coming to see your unit and ask them when they plan on getting back to you with their decision. If they're vague, give them a call within a couple of days. Don't let this drag out.
5. Write a Letter of Intent (LOI) and/or Draft a Tenancy Agreement (TA)
After showing your property to several qualified parties, you will narrow them down to one or two good candidates. Before signing on the dotted line, you need to verify that they meet all the eligibility requirements discussed above, plus the occupancy cap. Also, you need to check with the NRIC and be prepared to make copies of their immigration pass, student pass, work permit, and passport. Look at the photographs on their cards to verify that they look like the person on the card. Go online to ICA's website to make sure the immigration pass including NRIC is valid and to MOM's website to check the validity of their passes. Keep copies of the acknowledgment slip or the ICA/MOM screen shot.
To ensure that you have a serious applicant, you may want to offer a Letter of Intent (LOI) at this point. In fact, you can offer and accept several LOI, since this is not a legally binding agreement. It is just a formal letter that expresses the person's intent to rent your property. Your prospective tenant will likely set an expiration date for their offer, which is usually three (3) days.
The LOI can be considered a preview of the Tenancy Agreement since it includes the following:
Rental price offered
Start date and end date of lease
Specifics of landlord and tenant(s)
Number of occupants
Requests that applicant wants included in the TA (refrigerator, new beds, TV or other furniture)
If you decide you want these applicants as your tenants, now would be the time to negotiate their requests. Your options are to give them all they want, ask them to accept less, or explain that there will no changes at all.
The LOI may be offered at the same time a good faith deposit is paid. This would be in the amount equivalent to one month's rent. If they become your tenant by signing the Tenancy Agreement (TA), the deposit they paid can now become their security deposit. The market practice for security deposit would be in the amount of one month's rent if the lease is for one year, or two months' rent if the lease is for two years
On the other hand, if you reject the LOI, the applicant is entitled to have their good faith deposit returned, which you should do right away.
Once you've accepted the LOI and verified that these tenants meet the requirements, you are free to issue them a Tenancy Agreement. You should also know that you are entitled to forego the LOI process if you don't feel it's necessary. The Tenancy Agreement will state the Terms & Conditions of the rental with clauses regarding the primary aspects of the tenancy, to protect the rights and interests of both the landlord and the tenant.
You are welcome to download our agency's standard template of the Tenancy Agreement for Private Residential Property for no cost. This template covers all major aspects of tenancy, from rent-free periods to the end of tenancy checklist and the final property condition report. This template is drafted by the Council for Estate Agencies (CEA) after getting input from a wide variety of stakeholders, like the Council for Estate Agencies (CEA) themselves, various associations representing consumers, the real estate industry, and experienced practitioners in residential rental transactions.
Within 14 days of signing the Tenancy Agreement, your tenant should go to IRAS Website to have the Tenancy Agreement e-stamped to avoid a late fee. The tenant typically pays the tenancy Stamp Duty fee.
6. Get Ready for the Handover
You're almost there! But before you can finalize your rental transaction, there are a few things that must be done. The first thing on your list is to thoroughly inspect your property and this includes going over your inventory list one last time. Make sure everything is in good working order, otherwise you will be doing all the handyman jobs if any issues arise in the problem-free time period.
Let the tenant know the date of the handover, which is typically the date the lease begins or the day before. You and the tenant need to be together when you go over the inventory list. This should be done one item at a time so that you are both aware of everything remaining in the unit.
This may seem like more busy work, but this list is conclusive evidence of not only everything in the property, but their condition. This includes furniture, appliances, rugs, fittings and fixtures. Once you've done this, you can give your tenant all the keys including bedroom door keys, window grille keys, letter box keys and access cards if there are any. It is advisable to collect first-month's rent immediately upon signing of the Tenancy Agreement, but if this is not yet done, please ensure to collect it before handing over your flat to the tenant. There are cases where the tenant doesn't pay rental after moving into the house.
Okay, you are now all set!
Congratulations on renting out your flat without using an agent! To summarize, here are the steps you've taken to complete the process:
1. Rules and Regulations by the Urban Redevelopment Authority (URA)
2. Determine Your Rental Price
3. Marketing Your Property
4. Prepare for Showings
5. Write a Letter of Intent (LOI) and/or Draft a Tenancy Agreement (TA)
6. Get Ready for the Handover
At Pinnacle Estate Agency, we strongly believe in sharing our real estate knowledge to the public.⁠ For more content like this article, check out our Singapore Property Guides.
Have any further question on renting out your private residential property? We could help you get started