How Can "Lodging a Caveat" Help You in a Property Transaction?
Purpose of a Caveat, Process to Lodge a Caveat, Importance of URA Caveat
When you find a piece of property you want to purchase, the first thing you'll do is pay an option fee in exchange of an Option to Purchase (OTP). Afterwards, you will exercise your Option to Purchase (OTP) and pay the relevant stamp duty. Upon you exercising the OTP, your conveyancing lawyer will lodge a caveat on your behalf. Your lawyer may not explain much and does it behind the scene, however it is indeed a very important part of the transaction.
What is the purpose of a Caveat?
The word caveat means "beware," so a caveat on a piece of property protects the buyer. Once your lawyer lodges a caveat on the property you're in the process of buying, others will find out that your transaction has priority. If someone else tries to buy that piece of property behind your back, the caveat will block that transaction.
The caveat would also prevent the owner from scamming prospective buyers by "selling" the property to a number of different buyers, before making off with their deposits. By lodging a caveat, you would be alerted to such activity and avoid being victimized. If another buyer tries lodging a caveat on that same piece of property, your lawyer can advise you on what actions to take to protect your standing.
There is no law that says you must lodge a caveat. But it's an important precaution that can protect your interest in a particular piece of property. It serves to prevent someone else from buying it. It acts like a reservation on your property, just like how Singaporeans reserve their table at hawker centres using a little packet of tissues.
You can compare the execution of your Option to Purchase (OTP) with saving your spot at a table by placing a packet of tissues there. This serves to dissuade others from sitting down at your table while you are in a queue after ordering your food, which you can compare to finalising your property purchase. Once you have your food and go back to your reserved spot at the table, you'll remove the packet of tissues. You can compare this to removing the caveat once the transaction is complete and you take ownership of the property.
Just like those little packets of tissues people use to reserve their spot at a table at a hawker centre, by lodging a caveat you tell other buyers that your transaction has PRIORITY.
After exercising your OTP, or signing the Sale & Purchase Agreement, your conveyancing lawyer will immediately help you lodge a caveat. If not your lawyer, you can have another party, like the bank lending you the money. Or, if you're using CPF monies, the CPF board can lodge the caveat. The Singapore Land Authority (SLA) is where your caveat would be lodged. You are not allowed to do this yourself unless you happen to have a lodgement account.
However, you can find out whether others have already lodged caveats on private properties you may be interested in. For a nominal fee of $5.25 you can search the SLA INLIS portal and download caveats. Go to "Product Listings" and click "Property Ownership Information" and follow the prompts. (Caution: when you get a prompt to buy the "Strata Certified Plan" it's time to click "Cancel.")
The caveat will provide you with the type of information that property buyers often find very useful, as follows:
Name of the property's legal owner
Lot area (exact size) of the property
Property tenure
Details of all the caveats lodged
Whether or not the property has a mortgage on it
Any encumbrances on the property that could keep it from being legally sold
As you can see, a caveat has already been lodged on this property for $7,650,000.
Caveats lodged on properties by buyers can be analysed by others to determine the fair market price of a property based on the most recent transactions publicly displayed on the URA website.
What process needs to be followed to lodge a caveat?
Your conveyancing lawyer should lodge your caveat with the Singapore Land Authority (SLA). A form must be completed with information on the buyer(s) and details of the specific transaction. Once you gain approval for your URA caveat, you are now in a position to legally keep the seller from making a deal with another buyer. A fee of $64.45 is due on the day your caveat is lodged.
Keep in mind that this is public information. People can look this information up on the URA website, as previously discussed. This means that when lodging a caveat, you are offering this information to the rest of the world, including the price you're paying to buy the property. For sellers, the public will also be able to find out how much you're selling your current home for as well.
What is the importance of the URA caveat?
How will the URA caveat impact you? And why is it so important to search for caveats?
1. For Homebuyers
If you want to buy a certain unit listed for sale, searching for caveats will tell you whether anyone else already has priority on that unit. Your lawyer can help you search and make sure that a caveat isn't already lodged on the unit you want. This will keep you from wasting time talking to the seller and visiting the unit (unless the buyer withdraws from his/her OTP).
2. For Sellers Who Have Just "Sold" Their Unit
If you've "sold" your unit to a buyer and you then find out they've lodged a caveat on the unit, you can assume that they are very serious about following through with the purchase. This will give you the confidence to start looking for your next home.
3. For Potential Home Sellers
If you are considering selling your home, you can use the URA caveat to easily gauge the fair market value of your unit. Just look on the URA website for similar units to yours with a URA caveat. This will tell you how much others are selling their units for, so you can price yours accordingly.
What should homebuyers look for in the URA caveat?
The OTP price shown on the URA caveat is considered the most up-to-date market price you can get. With this information you can compare the price per square foot (PSF) of units similar to the one you are interested in. This way you can be confident that you aren't paying too much. Also, you may find out that you're getting a bargain, so you can act quickly to close the deal.
Tip: When making price comparisons, make sure you are looking at units of a similar size and tenure as the one you're interested in. Otherwise, you'll be comparing apples to oranges and you won't have an accurate picture of how desirable the unit is.
How do you search for caveats using the URA transactions portal?
Prospective homebuyers can search the URA property transaction site based on caveats that have been lodged on properties in the last 36 months. Searches can be conducted by property type and district, or by project name.
Search results will provide you with the following information:
Date of sale
Project name
Type of property
Floor level
Street name
Postal district
Unit size
Unit price
Net price
Tenure (99-year leasehold or freehold)
Type of sale (new sale, resale, or sub-sale)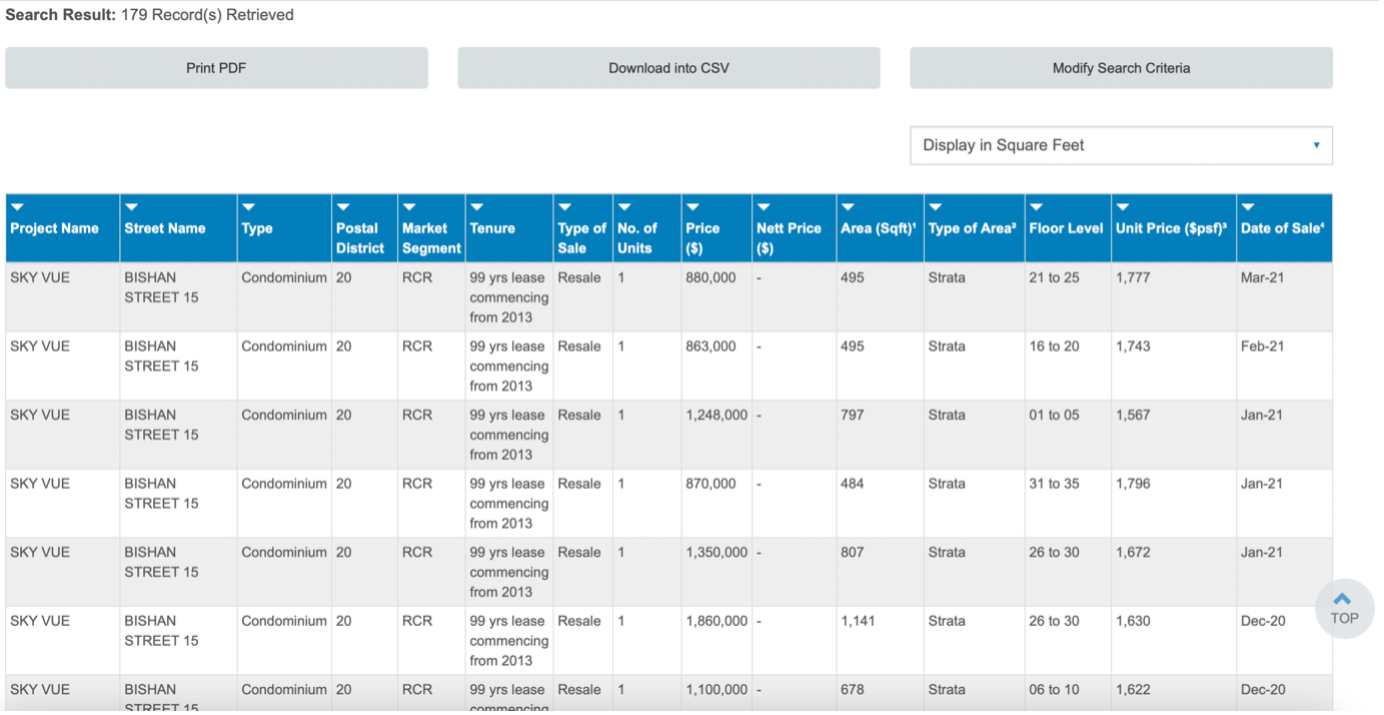 Source: URA caveat
Frequently Asked Questions
Question: Do all Singapore property transactions appear as URA caveat data?
Answer: No, since no one is required to lodge a caveat, this data does not reflect all property transactions taking place in Singapore.
Question: Why is there no URA caveat data on a particular property sale?
Answer: The buyer may have chosen not to lodge a caveat with the SLA, or the sale may have closed more than 36 months ago.
Question: Will the price on the URA caveat reflect discounts?
Answer: The price that appears is the price the buyer declared when the caveat was lodged. So, it may reflect discounts, or it may not.
Question: Will my full address be shown if I decide to lodge a URA caveat?
Answer: No, because your unit number will not appear. However, it may appear on URA's Real Estate Information System (REALIS), a portal that people subscribe to who want access to more detailed property information.
Question: If I decide to lodge a URA caveat, will my name and other private details be shown?
Answer: No, URA is not permitted to reveal the names of buyers and sellers.
Question: If the property I'm interested in has a caveat already lodged on it, what can I do?
Answer: Before getting your heart set on any piece of property, have your lawyer search for existing caveats. If a buyer has already lodged a caveat, they take priority. Any attempt on your part to buy the property will be blocked. You're aren't likely going to be able to buy this property unless the sale is derailed for some reason (i.e. it sometimes happens that a buyer pulls out after exercising their OTP).
In some cases, a lawyer is able to get a caveat cancelled, if there was a deleterious motive in lodging it in the first place (i.e. trying to cause frustration, irritation, or other problems).
There may also be cases in which your lawyer can pose a good argument against the caveat. For example, if it is found that a revengeful ex-spouse or partner lodged it to interfere with the sale. Conveyancing lawyers have made these cases in the past and were able to get the court to order the removal of the caveat. Also, lawyers have on occasion been able to get the caveat cancelled by appealing to the SLA.
At Pinnacle Estate Agency, we strongly believe in sharing our real estate knowledge to the public.⁠ For more content like this article, check out our Singapore Property Guides.
Have further questions on "lodging a caveat"?